The Ultimate FREE Guide to Ensuring HR Compliance for Your Business
Staying up-to-date on human resource challenges is tough. You don't have time to be an expert on all regulations while also focusing on running your business. This FREE guide will provide insights and steps for your business to remain in compliance with state and federal labor law challenges.
Human Resource Compliance Challenges
Are you struggling to keep track of federal requirements on employee classifications, blended overtime, tipped employees and more.  Throw state mandates on retirement plans, earned paid leave laws, Paid Family Medical Leave and much more on top of that and it is almost impossible to know everything. 
Our FREE Human Resource Compliance Challenges Guide is here to help.
What's inside our HR Compliance Guide?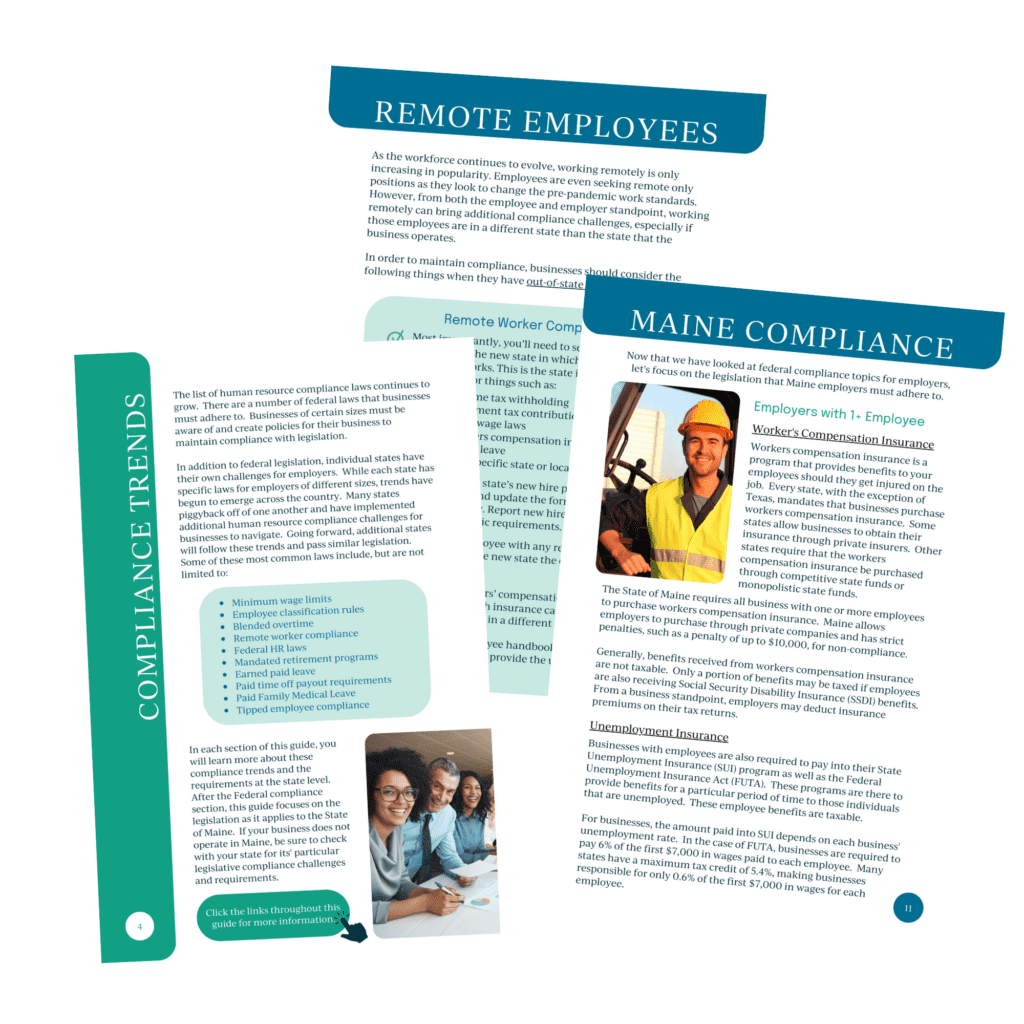 Paper Trails was founded in 2004 to relieve small businesses' financial preparation headaches and to allow you to work smarter no matter your size. While human resource management and payroll can be stressful, we are here to help run your business and to give you the time to do what you want to do – work your business! We will be that dedicated resource that your business needs to help you navigate this ever-changing world.
We are a local small business without an 800 number that consists of a team of fun and local experts purveying convenient, high tech, compliant services. We live, work and party right here in the southern Maine community, so when a question or need arises, we are right around the corner! From running payroll, to bookkeeping and benefit administration, Paper Trails allows you to handle the work, while we handle the paperwork

Access one or as many services as you like
We began with Paper Trails at the beginning of 2020 and have never once regretted the decision. Jeff, Chris, and Teresa have all made the process amazingly seamless which has let us focus on so many other important things to continue to grow our business. Paper Trails has saved me countless hours and headaches over the last 2 years. Congdon's Doughnuts is better equipped for future growth thanks to Paper Trails.
The tools that Paper Trails provides to me and my employees improve our HR processes and keeps my team engaged in providing world-class service to our guests.
You handle the work. We'll handle the paperwork.
We'll stay in the weeds to manage your payroll, Human Resources, and compliance needs.