It's been another crazy week in Washington & Augusta. We've received a little more guidance on how to handle things, but we still don't have answers to all of the pressing questions everyone is asking (how do I get my tax credits/money now!!!???).
Families First Coronavirus Response Act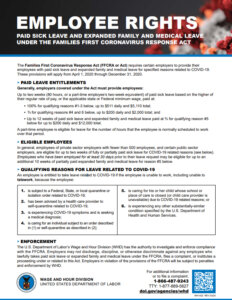 Department of Labor issued a new required labor law poster that must be displayed conspicuously for all of your employees. You can download it here. If you need to update all of your labor law posters, visit the Resources page on our website.
Department of Labor has clarified that all provisions of the FFCRA will become effective April 1st, not April 2nd, as previously thought. Our interpretation is that credits, etc will be applicable to payrolls run on or after April 1st, even if the sick time taken was before April 1st.
Department of Labor has announced that it will begin enforcement in April for violations of the FFCRA. We are here to help you maintain compliance and ensure you're only paying sick/FMLA to the correct individuals.
We have not received guidance from IRS about how the tax credits will work with regards to sick pay and temporary FMLA. We do know it will be as a credit or reduction of payment for payroll taxes, but we have not seen any specific documentation yet. We will update you as soon as we know how this will work. For now, we are entering hours separately so that they are easily tracked and reimbursed when the time comes.
Unemployment
If you are closing or are reducing your hours or workforce due to the Coronavirus, the best step to protect your employees is to lay them off so that they can collect unemployment. Last week nearly 22,000 Mainers applied for unemployment – this is a record! The state has streamlined the process, and employees are seeing checks quickly. There is no wage verificiation as part of this process, but we do expect an audit of this in the future.
Employees whose hours are reduced may also be eligible for unemployment, but this process is much more of a challenge to get through. It may be easier to lay off employees entirely.
For employees who need to apply for unemployment, they should visit https://reemployme.maine.gov and click "Create ReEmployME Account" under Claimant Services on the right side of the screen.
The federal government has included funds in each of their stimulus bills to ensure that the states are solvent in paying out unemployment benefits.
Coronavirus Aid, Relief, and Economic Security Act (CARES Act)
We HOPE the House of Representatives passes the "CARES" $2 trillion Stimulus package today, and forwards it on to the the President for his signature. There is one squeaky wheel in the House that is threatening to de-rail the vote on procedural grounds. If it passes, this is what we expect will be included (it can still change). We will send out a full summary once we know specific details and it has been signed into law.
Impacted businesses will be able to apply for "Business Interruption Loans" to cover payroll, utilities, rent, mortgage payments, etc. As long as provisions are met, the loans may be 100% forgiveable and not taxed as income after 1 year.
These loans are expected to be made through your community bank as part of the SBA 7A program. Once the law passes you'll need to reach out to your bank to apply and receive funds.
Individuals may receive checks of $1200 per person and $2400 per couple up for incomes up to $75,000 or $150,000 if filing jointly.
Unemployment benefits will be extended to a full 13 weeks for Coronavirus related layoffs.
We anticipate it will take up to 2-3 weeks before loan applications, and other benefits are available once this is signed into law.
You may read the full text of the draft bill here.
Other Support for Small Businesses
We found this really good article from Inc Magazine that lists what other "big" businesses are doing to help Small Businesses survive during the Coronavirus Pandemic. Think discounts, program expansions, deferrals, etc. Read it here.
Further Updates
Once the CARES Act is signed into law, we will send a more in-depth overview of the bill, and (potentially) how to apply for benefits. Please feel free to reach out to us with any specific questions.
Stay healthy,
The Team @ Paper Trails