Types of business insurances
As with personal insurance protection, Maine employers should consider several types of insurance for their business. These insurances protect businesses against a variety of common claims, from a customer slipping and falling on a shop floor to an employee becoming injured on the job. Let's take a look at the different types of business insurances for Maine employers.
What is business insurance?
Business insurance is critical for employers to stay protected. Insurance can protect employers against losses incurred during the running of your business. For example, if a customer or employee makes a claim against you, or if your company equipment is broken, your insurance provider will cover the costs of the damages.
What types of business insurances are there?
There are many different types of insurances available to businesses. Some of these insurances are industry specific and may not apply to all businesses. Types of insurances include, but are not limited to:
General Liability
Commercial Auto
Workers' Compensation
Business Owners' Policy (BOP)
Professional Liability
Cyber Insurance
Business Interruption Insurance
We will cover the basics of these insurances below.
What types of insurance is required of Maine employers?
The State of Maine only requires businesses to carry workers' compensation insurance. Businesses with one or more employees must provide workers' compensation. This insurance is used to cover employees who are injured at work or while performing work related duties. The insurance payments can be used to cover:
Lost wages
Medical bills
Rehabilitation
Job retraining
Disability benefits
Funeral services
Every other type of insurance, while recommended, is not required by employers in Maine.
General Liability
This is the most common business insurance coverage. General liability protects against third-party bodily injury and property damage, as well as personal and advertising injury. Should a customer fall in your restaurant, this is the type of insurance that would cover your business.
Commercial Auto
Commercial auto insurance pays for a loss resulting from an auto accident with a company-owned vehicle. An employers' personal auto insurance does not cover vehicles when they are being used for business purposes.
Business Owners' Policy
A Business Owner's Policy, also referred to as a BOP, is an insurance policy that combines both business property insurance and business liability insurance. BOP insurance coverage can protect the employer from the costs of damages from things like theft, fire, or other disasters.
Professional Liability
Maine businesses that offer professional services should consider this coverage. Professional liability insurance protects businesses from claims of professional negligence and helps pay for defense costs. It is also known as errors and omissions insurance.
Cyber Insurance
Cyber insurance is used to protect employers against incidents like data breaches and cyber attacks. It includes first-party and third-party protection for things like investigative services, data recovery and legal costs. Businesses that store or manage customer data, like credit card information, should consider this coverage.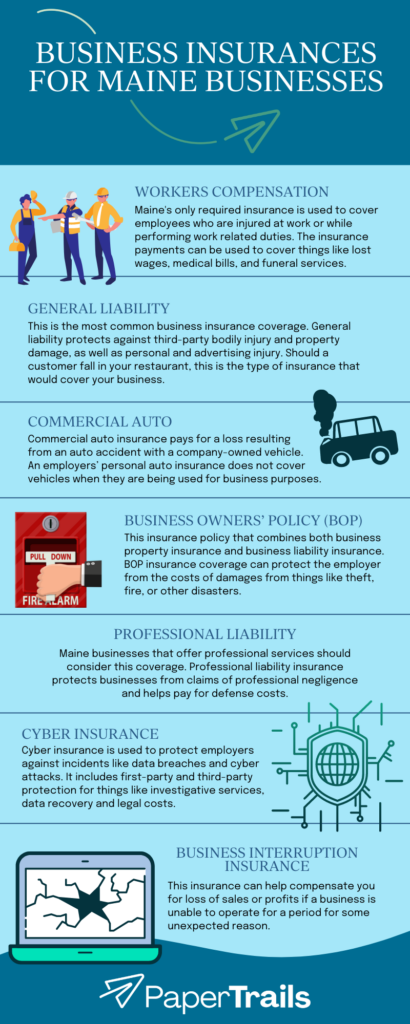 Business Interruption Insurance
Business interruption insurance, also known as BI insurance, can help compensate you for loss of sales or profits if a business is unable to operate for a period for some unexpected reason. Events that can cause business interruption include:
A fire or flood that damages office space
Breakdown of equipment that is fundamental to your business operations
A key supplier is unable to provide products for your business to sell
How much does business insurance cost?
Each business in Maine will have their own unique insurance policy. The cost of a business' insurance is determined by a number of factors including:
Type of industry
Number of employees
Location of business
Number of company vehicles
Safety practices in place
Past claims reported
Number of years in operation
One of the most important factors is the type of work your business does. For example, insurance rates would be lower for an accountant than a tree trimmer because their work is typically considered "safer", which exposes them to less risk. Contact an insurance provider for quotes for your business.