Things to consider when selecting a payroll software
A priority of all businesses should be automating the payroll process. Whether a small business with 5 employees, or a large business with 500 employees, using software to pay employees has many advantages. Some advantages include reducing administrative burden, improving financial health, and maintaining compliance. There are no shortages of payroll software available to businesses. When selecting a particular software over another, there many factors to consider. Below, we will take a look at the things to consider when selecting a payroll software.
What is payroll software?
A payroll software is a cloud-based system that allows businesses to automate payments to their employees. Payroll software has the ability to house all information digitally and maintain compliance throughout the payroll process. A high-end payroll software, such as isolved, allows businesses to perform all aspects of the payroll process. For example, an electronic payroll software can:
Pay employees via electronic funds transfer (EFT) such as direct deposit
Withhold proper payroll taxes
Electronically file quarterly and yearly taxes
Onboard and offboard employees
Securely store employee and company data
Track employee time and time off
Maintain company benefit information
Give employees online access to paystubs, W2s, and more via an employee self-service module
Store historical payroll information
What are the things to consider when selecting a payroll software?
When selecting a software for your organization, it is first important to think about your business. Depending on your business' size or needs, a particular software may suit your business better than another. Questions to consider about your business include:
How many employees does your business have?
What is your business' budget?
How often will you conduct payroll?
Will you be printing live checks or offering direct deposit for employees?
Does your business offer benefits?
Do you need a time keeping system?
Once you know your business needs, it is time to shop around for a payroll software that works for you. Features of a software to look for are:
Tax filing
Direct deposit
Integrated features
Employee self-service module
Mobile friendliness
Reporting features
Security
Affordability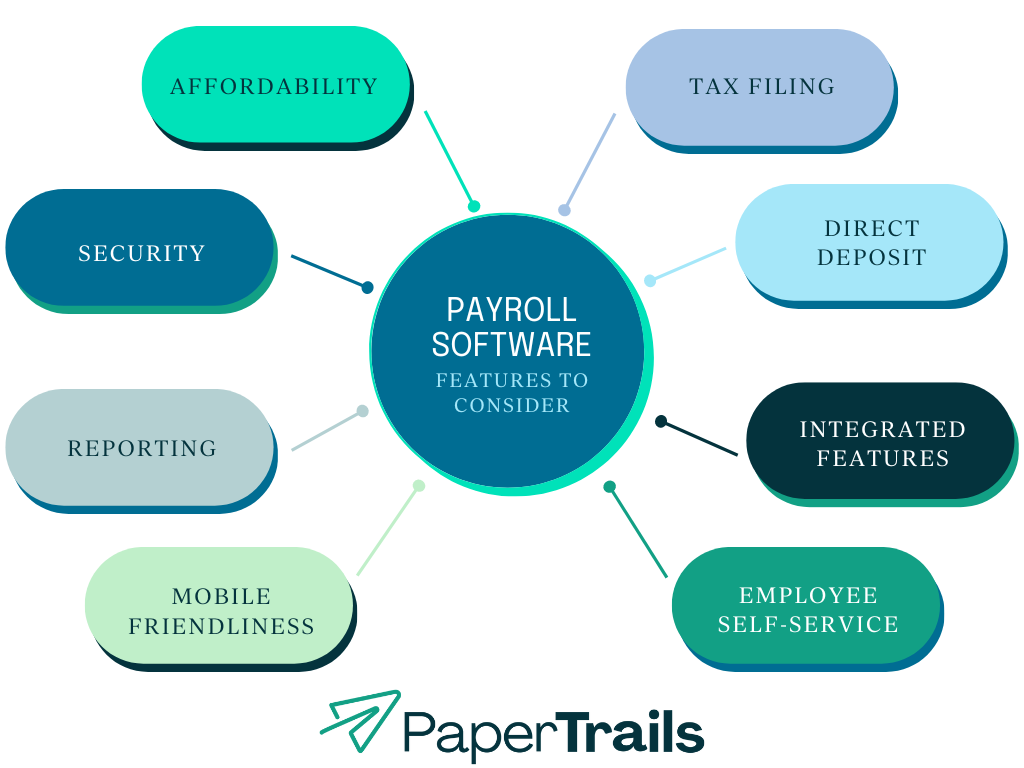 Tax filing
Any payroll software needs to be able to properly withhold and file payroll taxes. Taxes can be a tricky area, so allowing the system to manage the process is key to avoiding errors and staying compliant. Payroll systems should also be able to quickly and easily produce tax documents such as W-2s and 1099s.
Direct deposit
Many businesses have moved to paying employees through direct deposit. This allows employees to get consistently paid on time, improving employee morale. Furthermore, a system that allows for direct deposit saves managers time and the business money in supplies.
Additional features
A payroll software that integrates other human resources tasks increases efficiency of your HR department. If your business is already using timekeeping or electronic onboarding systems, but those systems do not communicate with the payroll software, there is a lot of manual work that needs to be done. Look for a platform that houses all of these tasks. When all of your tasks are in one place, manual labor and errors will be eliminated.
For example, isolved Time integrates directly with payroll. When an employee clocks in or out, or requests paid time off, the payroll platform is automatically updated with those changes. All managers have to do is check the accuracy of the time cards and press process payroll!
Employee self-service
Next, it is important for your payroll software to have an employee self-service module. This is where your employees can manage all of their payroll and HR needs on their own. By allowing them to manage their needs, business owners and HR managers can save valuable time and energy. A well designed self-service module will allow employees to:
View and print paystubs and W2s
Update personal and direct deposit information
Clock in and out
Request time off
Complete company onboarding
Enroll in benefits
Submit expense reimbursements
And more!
Mobile friendliness
Mobile friendliness goes hand-in-hand with the employee self-service tool. Employees and managers should be able to access and complete their HR needs on their mobile device. For example, this would allow an employee to clock in and out right from their phone based on location. Managers could approve time off requests when it is convenient for them, and from anywhere.
Reporting
The reporting capabilities of a payroll software is key when selecting the right one for your business. There are so many reports needed when operating a business. From standard payroll summaries, to expense reports, tax withholdings, workers' compensation reports, and so many more, it is important to be able to quickly access them. Additionally, it is important to be able to customize reports to fit your specific industry or business needs.
Security
Another critical feature of a payroll software is security. If you are going to be housing all of your sensitive business and employee information on the cloud, you want to make sure the system has multiple layers of security. Look for both internal security and external security features. For example, an internal security feature would be limiting a manager's access to a certain department or labor group. External security would be something such as two-factor authentication.
Affordability
Finally, consider the price of the software. If one software that you like is too expensive for your business, consider other options. Just because it is the most expensive option, or has every feature known to man, does not necessarily mean it is the right software for your business. Think about what your business needs and how much you are able to spend on your payroll software when making a decision.