What is the best payroll company in Maine?
When businesses are looking at outsourcing their payroll and HR needs, there are many Maine-based providers that they may choose from.  At Paper Trails, it is our priority to provide you with all of the necessary information to make the best decisions for your business.  This could come in the form of how your business can navigate a certain labor law, or what payroll partner options are available for your business.  In this article, we will cover one of the questions we hear on almost a daily basis, "what is the best payroll company in Maine?"
Throughout this page, we will be as transparent as possible about our business and our competitors.  Each of these companies has many great strengths as well as possibly a few weaknesses.  There is no one size fits all model to selecting the right partner for every business.  Each business has their unique needs based on their financial goals as well as their employees' situations.
So, let's take a look at the best payroll companies in Maine.  We like to say there are the "big 5" when it comes to Maine based payroll vendors.  And yes, we consider ourselves on that list.  By the end of this article, you should know what the "big 5" payroll vendors are and why we consider ourselves as one of these businesses. 
The "big 5" best Maine payroll companies include Paper Trails, Bangor Savings Bank, Payroll Management, Yarmouth Payroll Plus, and Local Economy.  Continue reading to learn the positives to each of these payroll companies so that you can make the most informed decision for your business.
What are the benefits of choosing a Maine payroll company?
Choosing a locally based Maine company has many benefits for employers in the area.  First, these businesses have local offices that clients are able to visit and gain that personal connection to their provider.  Additionally, these Maine based companies focus on employment laws and payroll compliance specifically in Maine and the surrounding states.  Finally, Maine is made up mostly of small, local business.  Supporting other local, small businesses in the community is what make Maine such as great place to live and work.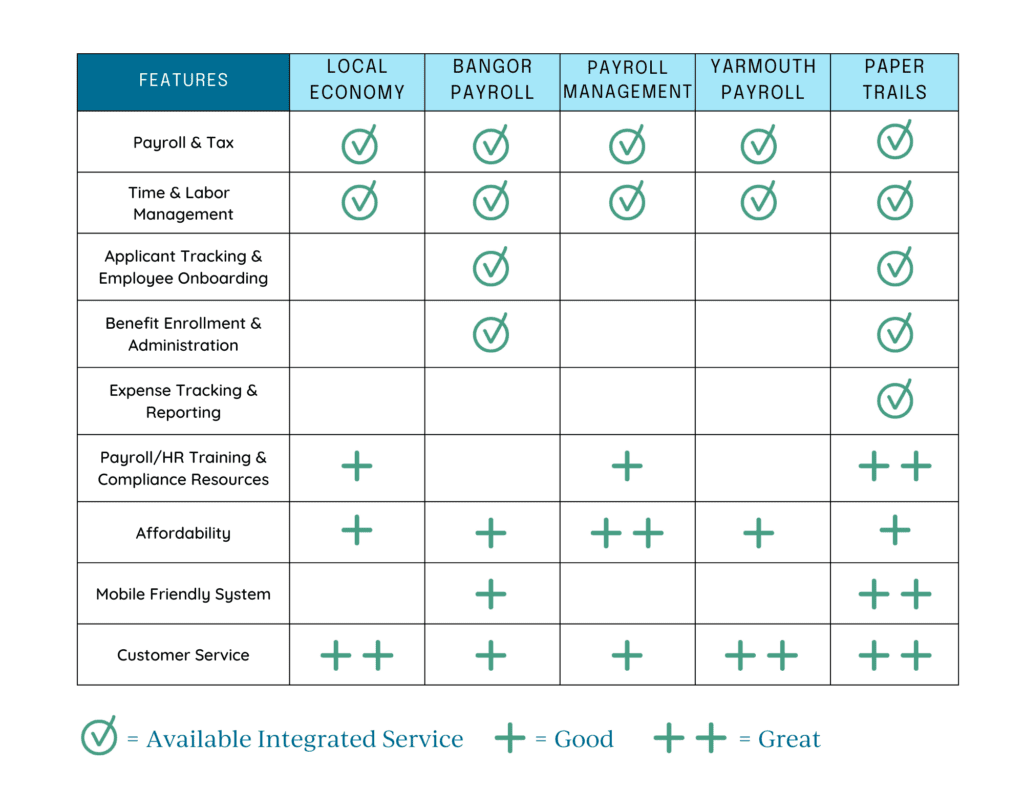 Ready to See How Paper Trails Can Help Your Business Thrive?
Our mobile friendly platform will reduce your administrative burden, improve your bottom line and empower your workforce.
Pros of each Maine payroll company
Let's take a look at each of the "big 5" Maine based payroll companies and the pros of each.
Local Economy
Local Economy is a payroll company based in the heart of downtown Portland, Maine.  There is something to be said of being able to be within walking distance of many amazing local Maine based businesses.  This is a family owned business that has operated for over 50 years featuring a small and friendly team.  Local Economy is hyper focused on serving Maine small businesses and specializing in serving many of the creative industries Portland has become world renowned for.  Their website features many helpful articles, links and forms that business can access for their payroll needs.
Yarmouth Payroll Plus
Yarmouth Payroll Plus is based in Yarmouth, Maine.  This is another family owned business that is known for their professionalism and hospitality.  This team is focused on providing quality customer service and is extremely community oriented.  Yarmouth payroll provides time tracking services in addition to their payroll and tax services.  Their website provides links to payroll forms and and HR center for businesses to gain critical knowledge and expertise.
Payroll Management
Another family owned business, Payroll Management is located in Auburn, Maine.  Payroll Management has operated in the area since 1989 and has become a trusted partner for businesses of the Lewiston/Auburn community.  This company works with business across many industries and provides accurate payroll and tax compliance as well as offering time and attendance solutions.  There is a blog located on their website that is updated with helpful articles multiple times per month.
Bangor Savings Bank
Bangor Savings Bank is one of the larger companies providing payroll services in Maine.  This company has numerous location throughout the state with an impressive reach across all industries.  The size of Bangor's staff allows their business to work with some of the largest businesses in the state.  Bangor Payroll has a very strong brand and a great depth of corporate product.  Working with Bangor for their payroll and HR needs, allows businesses the opportunity to easily integrate their banking as well.  Currently, Bangor is in the process of upgrading to UKG for their payroll platform.
Paper Trails
At Paper Trails, we are a second generation family owned and operated business with offices in Kennebunk and Topsham, Maine.  We focus not only on paying your employees timely and accurately, but being the resource your business needs to stay compliant in this ever-changing world.  Our blog and social channels are updated multiple times a week with all things payroll and HR related.  We provide monthly webinar on new compliance challenges and trainings of our HCM platform isolved. isolved allows businesses to integrate all of their needs, including timekeeping, benefits, onboarding and more.  The mobile friendly self-service platform empowers your employees to take their own payroll and HR needs in their hands, ultimately reducing your administrative burden. Customer service is also one of our main goals, as our team of experts are their when a question or need arises.
So there you have it.  These are what we consider the "big 5" payroll companies in Maine and the businesses you should consider when shopping for your payroll and HR needs.  Each one of these businesses has many pros, so support local and choosing one of these businesses would be a great idea for any company.
Looking to learn more about our solutions?
Our team is ready to provide you with a FREE demo and quote that aligns with your business' needs.