Employees are the backbone of all businesses. They work hard every day to ensure the success and growth of the company. That's why it is crucial for employers to pay them timely and accurately and having a reliable and efficient payroll system is essential for doing so. Unfortunately, many employers find themselves stuck with an unreliable payroll vendor, which can ultimately lead to failure. Switching payroll companies may seem like a daunting process, but we are here to provide you with the top tips for switching payroll companies
Switching payroll companies doesn't have to be difficult. In fact, it can be a positive and transformative step for your business. At Paper Trails, we understand the challenges that come with finding a trusted payroll vendor. That's why we are here to guide you through the process and provide you with the top tips you need to make switching seamless. With the right guidance and support, you don't have to stress about making the change. Our team at Paper Trails works tirelessly to help our clients, including small businesses like yours, thrive and succeed.
In this article, we will explore the top tips for switching payroll companies. We want to empower you with the knowledge and insights to make an informed decision for your business. By the time you finish reading this article, you will have valuable tips that you can use if you ever feel frustrated with your current payroll vendor and are considering a switch. Let's go!
Things to consider when switching payroll companies.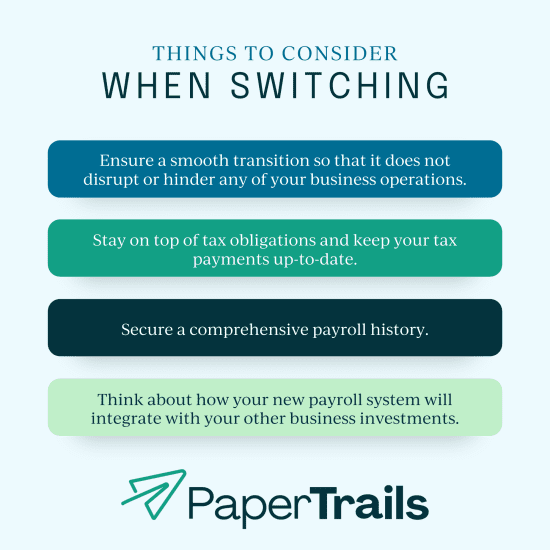 When considering a switch to a new payroll company, you must thoroughly evaluate various essential factors. By carefully assessing these elements, you can optimize your decision-making process and ensure a seamless switch. Some key aspects to consider include:
Ensure a smooth transition, even during the middle of the year, so that it does not disrupt or hinder any of your business operations. Your goal is to seamlessly implement any changes without causing any inconvenience to your business or your employees.
Stay on top of tax obligations and keep your tax payments up-to-date.
Secure a comprehensive payroll history. Detailed records of all payroll transactions not only helps you maintain accurate financial records but also enables you to efficiently handle any payroll-related inquiries or disputes.
Think about how your new payroll system will integrate with your other business investments. Be sure to understand your existing infrastructure to ensure a seamless integration process.
What are the top tips for switching payroll companies?
So, you have decided that your current vendor is not working, or you are looking into switching to a local payroll provider.  When going through this process, there are some tips to consider.  These tips include:
Asking the right questions
Gathering employee information
Finding company documents
Considering certain challenges
Let's look at each a little more closely.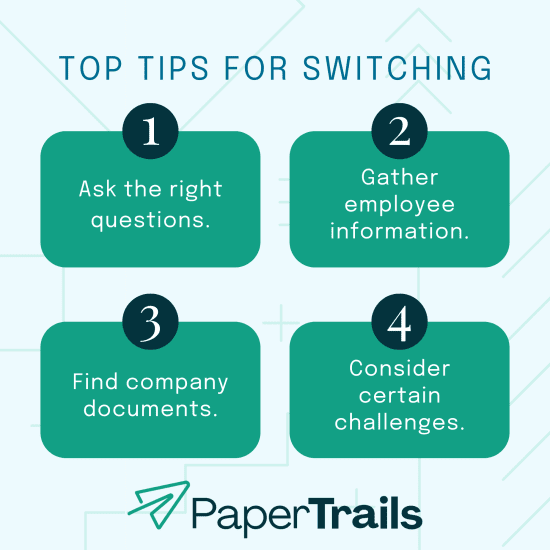 Asking the right questions
When considering a new payroll provider, it is crucial to ask the right questions about their process to guarantee a seamless transition for your business. The right payroll provider can make all the difference in streamlining your payroll operations and ensuring accurate and timely payments for your employees. By delving into their process, you can gain valuable insights into their expertise, technology, and customer support, which are vital factors in choosing the perfect partner for your payroll needs. So, take the time to inquire about their payroll software, data security measures, reporting capabilities, and customer service responsiveness. By asking these essential questions, you can confidently make an informed decision that will benefit your business in the long run.
Questions to ask include:
Who will be involved in the conversion process?
Will your needs be communicated from your sales representative down to your payroll processor to ensure proper system configuration?
Will there be a plan with clear deadlines to ensure a timely transition?
Will the new provider perform a conversion to import your historical payroll and employee history into their system?
Will you have a dedicated account team who is easy to reach?
Does the new provider offer additional resources for you to make sure you are getting the most out of your investment?
Does the new provider have an all-in-one system for all payroll services?
Does the new provider offer integrations with other systems you use?
Gathering employee information
There is a multitude of vital information that you will need to provide to your new payroll vendor. To ensure a smooth and effortless transition, it is absolutely crucial that you furnish precise and comprehensive details about your employees. This encompasses a wide range of specific information, including but not limited to:
Finding company documents
In addition to the essential employee data, it is crucial for you to gather and supply the necessary information and documents about your company to the new payroll vendor. These valuable items encompass a wide range of details, such as financial records, tax forms, employment contracts, and company policies. By providing these comprehensive materials, you will ensure a smooth transition and enable the payroll vendor to accurately process your company's payroll, maintaining the highest level of professionalism and efficiency.
Items can include:
Company tax ID numbers.
Company bank account information.
State unemployment rates for all states that you report.
Copies of current year Form 941 payroll filings (if available).
Year-to-date payroll summary by employee and by quarter.
Considering certain challenges
Challenges may arise when converting payroll to a new vendor. Working with an experienced vendor can help navigate these challenges and ensure a seamless transition. From streamlining processes to addressing any potential data discrepancies, an experienced vendor brings invaluable expertise to handle these complexities efficiently. By partnering with a knowledgeable vendor, businesses can confidently tackle hurdles and focus on their core operations, knowing that their payroll transition is in capable hands.
Challenges include:
Integrated payroll solutions. When deciding on a new vendor, make sure they can integrate with other systems that you use (time tracking systems, benefits administration, etc) or if they offer their own solutions.
Information errors. Make sure to provide the new provider with the correct historical information about your company or that they have the ability to pull the necessary data from your previous provider.
Tax compliance. Confirm that your new provider has a knowledgeable staff to keep you tax compliant. Check that their system can be configured to keep accurate taxes for your particular business.
Multiple pay frequencies. Many businesses pay their employees at multiple frequencies. Verify that the new provider is able to support various departments, pay groups, and frequencies customized to your needs.
Conclusion on switching payroll companies
Well, there you have it. With these helpful tips and insightful areas of focus, the process of switching payroll companies will feel much more approachable and manageable. We understand that it can be a tedious task, but with the right payroll partner by your side, the transition will be seamless and hassle-free for your business.
At Paper Trails, we pride ourselves on being that ideal payroll partner that you can rely on. Our dedicated team of experts is here to guide you every step of the way, ensuring that your switch to our payroll platform, isolved, is smooth and effortless. If you're curious to learn more about the process or would like to see a demo of our innovative payroll platform in action, don't hesitate to reach out to our sales team. We are more than happy to provide you with all the information you need and showcase how isolved can revolutionize your payroll management.
Remember, making the switch to a new payroll company doesn't have to be daunting. With our support and state-of-the-art technology, you can confidently embrace the change and experience the benefits it brings.